Chief Proprietor and Board Lord
Staff member
Dirt Rider is up with a project bike - a DR-Z400S.
I do enjoy these sorts of articles, even if the subject bike is one I am unlikely ever to own. Customizing a bike generally is just fun, and I often learn things about products that may benefit my bikes. In this case, I'd forgotten about Acerbis hand guards - I just installed Barkbusters on my KLR - and I've never heard of Doubletake Adventure mirrors. They will get a long look when I'm in the market for aftermarket mirrors (I bought cheapies on Amazon for the KLR and they seem fine for now).
Building A 2019 Suzuki DR-Z400S Project Bike - Dirt Rider
In an era of modern, fuel-injected four-strokes, it's a good time to be in the market for a
dual sport bike
. With companies like
KTM
,
Husqvarna
,
Beta
, and now
Honda
all offering high-performance dual-purpose motorcycles, it has become the norm for these manufacturers to take many of the designs and features that are used on their off-road and motocross models and transfer them over to their dual sport bikes. However, while these dual sports offer lots of capabilities on the trail, it is clear that their performance on the pavement is naturally less of a concern.
Having ridden all of the latest and greatest dual sports as well as the old and unchanged, I can say that one bike that checks nearly every box for me for a fraction of the price of many of the others is the Suzuki DR-Z400S. It bridges the gap between a Suzuki DR650S or Honda XR650L and a KTM 500 EXC-F, with its 398cc, four-stroke, liquid-cooled, carbureted engine equipped with a five-speed transmission. Offering a solid powerplant that is as reliable as a hammer, plush suspension that works well both on and off road, and a slim, agile chassis makes the DR-Z400S perhaps the most well-rounded dual sport bike on the market.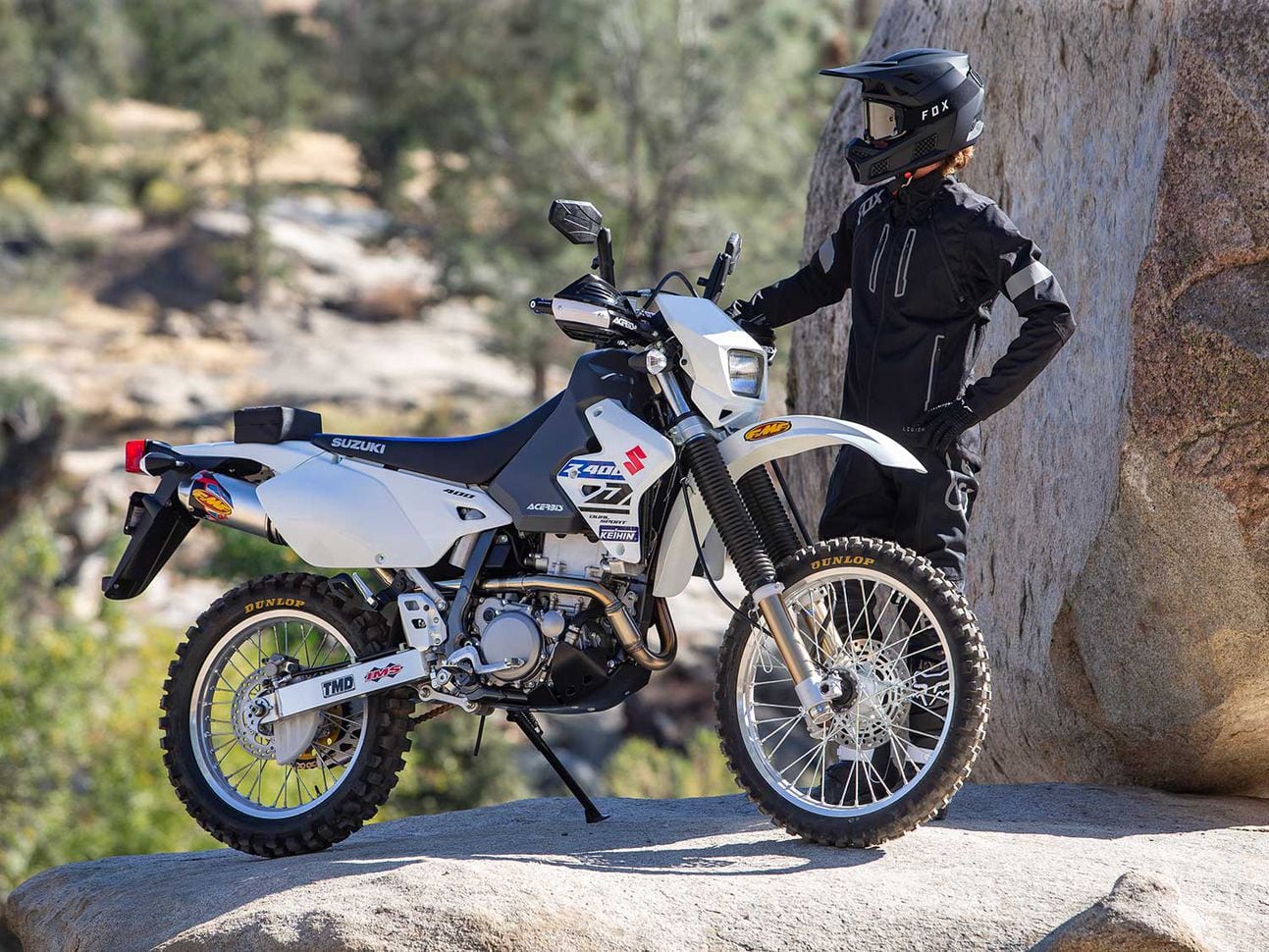 We built a 2019 Suzuki DR-Z400S project bike with the help of several great companies.Jeff Allen
Don't be fooled however. Like all motorcycles it has its flaws. The engine could be a little peppier and more exciting, and it would be nice if the bike could shed a few pounds. Also, don't forget the
DR-Z400S
has remained almost completely unchanged since its initial release nearly 20 years ago. So, here at _Dirt Rider_, we took the opportunity to take a good bike and make it better. With the arrival of a brand-new, pearly white 2019 Suzuki DR-Z400S at our office, we decided to create what I would consider my 400 dual-sport dream build. With the help of amazing and trusted companies such as Keihin, FMF Racing, Acerbis, Supersprox, Dunlop Tires, TM Designworks, IMS Products, Renthal, ODI Grips, and Doubletake Mirror, we dressed up the DR-Z400S like it was going to the senior prom.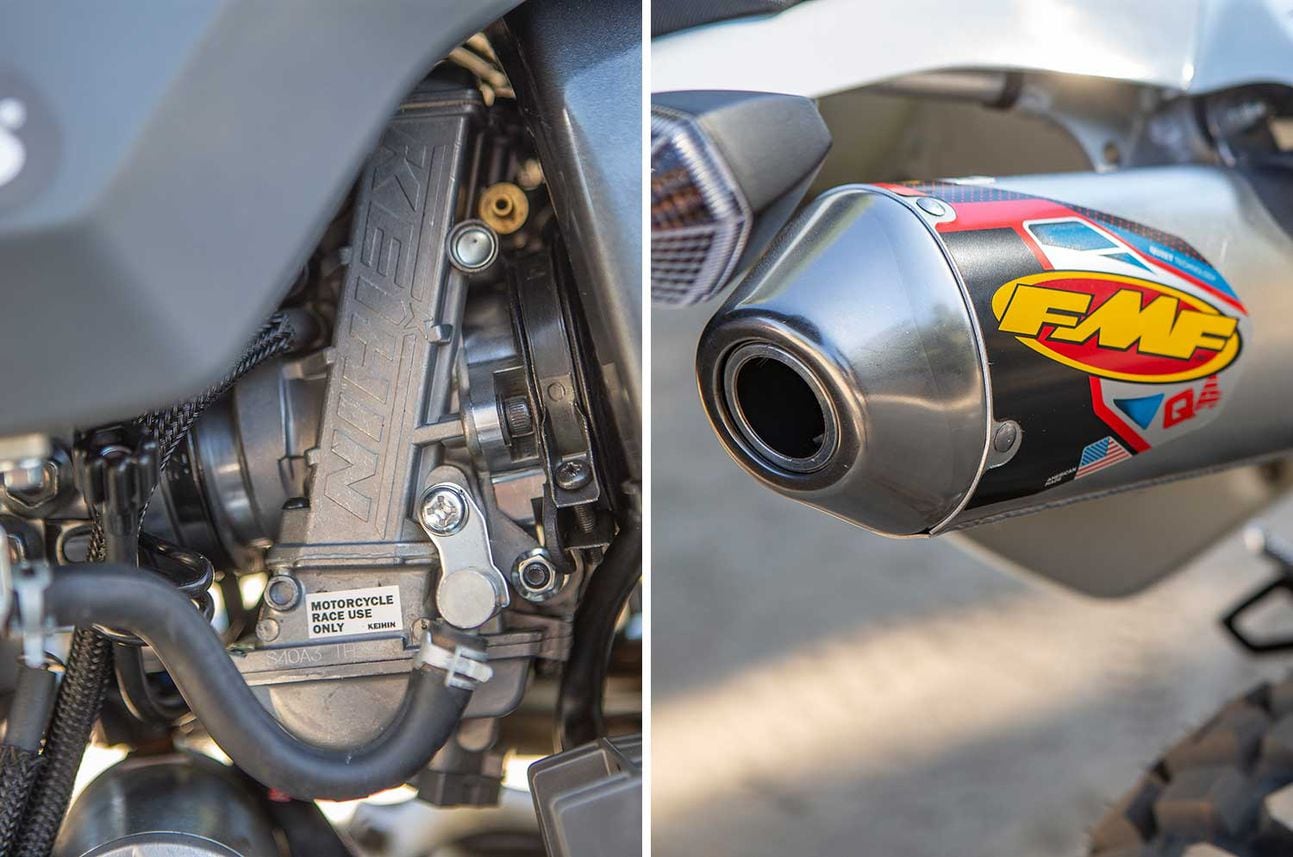 The FMF PowerBomb header pipe and FMF Q4 muffler coupled with the Keihin carburetor go together like peanut butter and jelly, creating an amazingly connected throttle to rear wheel feel as well as a low-end grunt that truly brought the DR-Z out of its shell.Jeff Allen
The Keihin FCR-MX 39mm flat-slide carburetor complemented by an FMF PowerBomb header pipe and FMF Q4 muffler created a massive spike in throttle response as well as noticeable overall power gains. These two mods go together like peanut butter and jelly, creating an amazingly connected throttle to rear wheel feel as well as a low-end grunt that truly brought the DR-Z out of its shell. Having spent a lot of time on a stock DR-Z400, I was amazed at how much more usable each gear became. On the completely stock bike, I would constantly short-shift it because as you got into the top-end of the powerband, the engine would sign off big-time. After adding the Keihin carburetor and full FMF exhaust system, not only could I easily steer the bike with the throttle and without the use of the clutch, but I was able to really rev it out as it had increased top-end power, making for a broader powerband.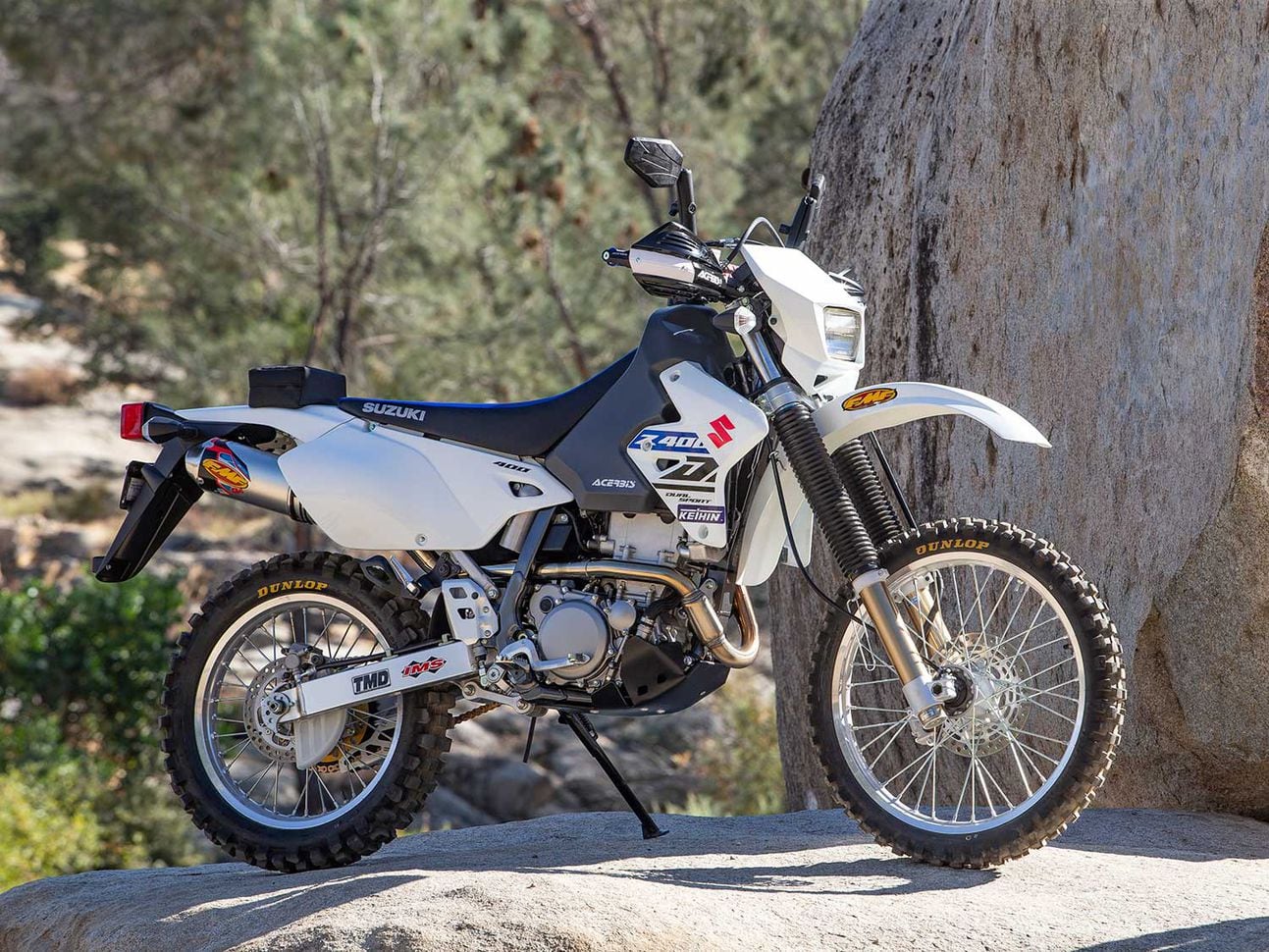 Test rider Evan Allen takes a brand-new 2019 Suzuki DR-Z400S and builds a project bike using several aftermarket parts from a variety of different companies.Jeff Allen
When in need for a big burst of power when blowing up a berm or rock hopping, the amount of sheer hit delivered to the rear wheel with the use of the clutch was impeccable. It amazed me how much the power gains made the bike feel so much lighter and willing. At times I would forget I was on a DR-Z and feel as though I was on a 450 motocross bike because of the bike's newfound bark and bite. Another enjoyment was doing dead-stop starts as if I was on the starting gate of a race, revving the bike all the way up before snapping it up into the next gear off the rev limiter. With a few simple engine mods, the DR-Z just loves to eat and move dirt.
My preferred dual sport tire of choice is the always-pleasant Dunlop 606. Offering a nice chunky knobby that hooks up well and provides great feedback as well as a solid, confidence-inspiring traction patch on the pavement and tons of feel. Being that the DR-Z400S is a dual sport and excels on the pavement, I spent half of my 1,000 total miles logged on the road, hitting some of the best twisties California has to offer.

The stock handlebar and grips were replaced with a Renthal 7/8-inch Reed/Windham handlebar and ODI half-waffle motocross grips.Jeff Allen
At the front of the bike, we swapped out the stock handlebar for a Renthal 7/8-inch Reed/Windham handlebar for a more aggressive bend as well as added strength and durability. Our friends at ODI Grips sent over a box of their excellent half-waffle motocross grips to choose from; we opted for the blue pair to match the accents on the bike. To add an extra layer of protection for both my hands and the controls, Acerbis sent us a pair of its bulletproof X-Factor wraparound hand guards. Acerbis also provided us with a 3.9-gallon fuel tank, which added an additional 1.4 gallons of fuel capacity over the 2.5-gallon tank that comes stock on the California model (the non-California model holds 2.6 gallons).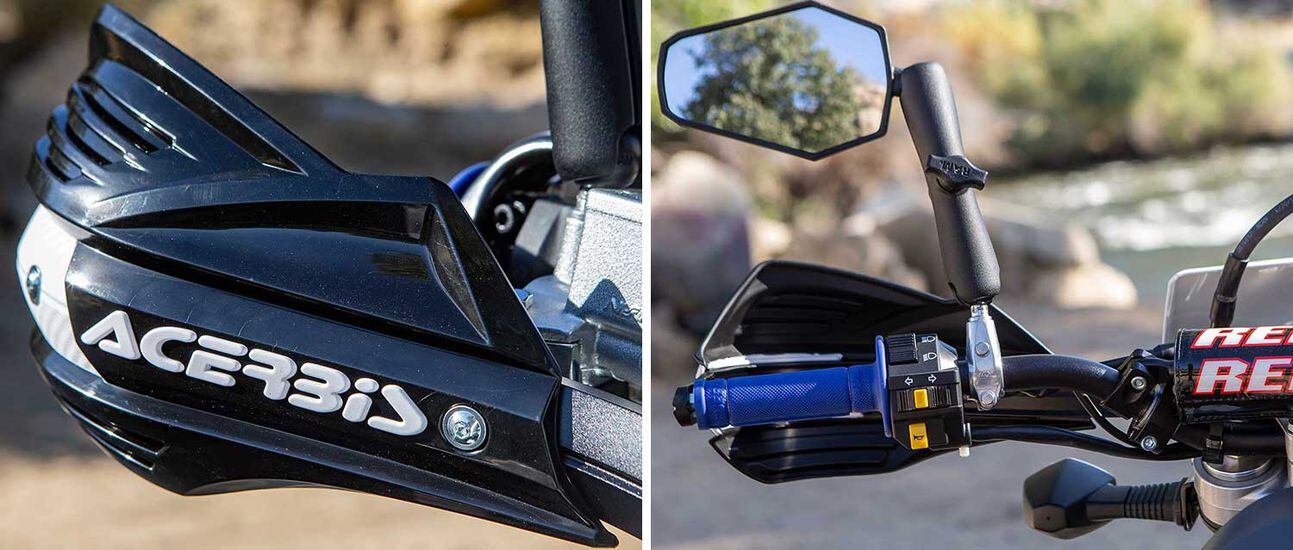 Acerbis X-Factor hand guards added an extra layer of protection for both my hands and the controls. The stock mirrors were swapped out for Doubletake Adventure mirrors, which are a personal favorite of mine.Jeff Allen
We reached out to Doubletake Mirror for a set of its Adventure mirrors as well. Although mirrors can be often overlooked, it's one of the first things I notice when throwing a leg over a bike and I must say the Doubletake Adventure mirror is by far my favorite. Its unique design utilizes a RAM mount that allows for quick, toolless adjustments as well as the ability to fold them down above the bar pad to avoid catching them on trees or bushes when riding off road.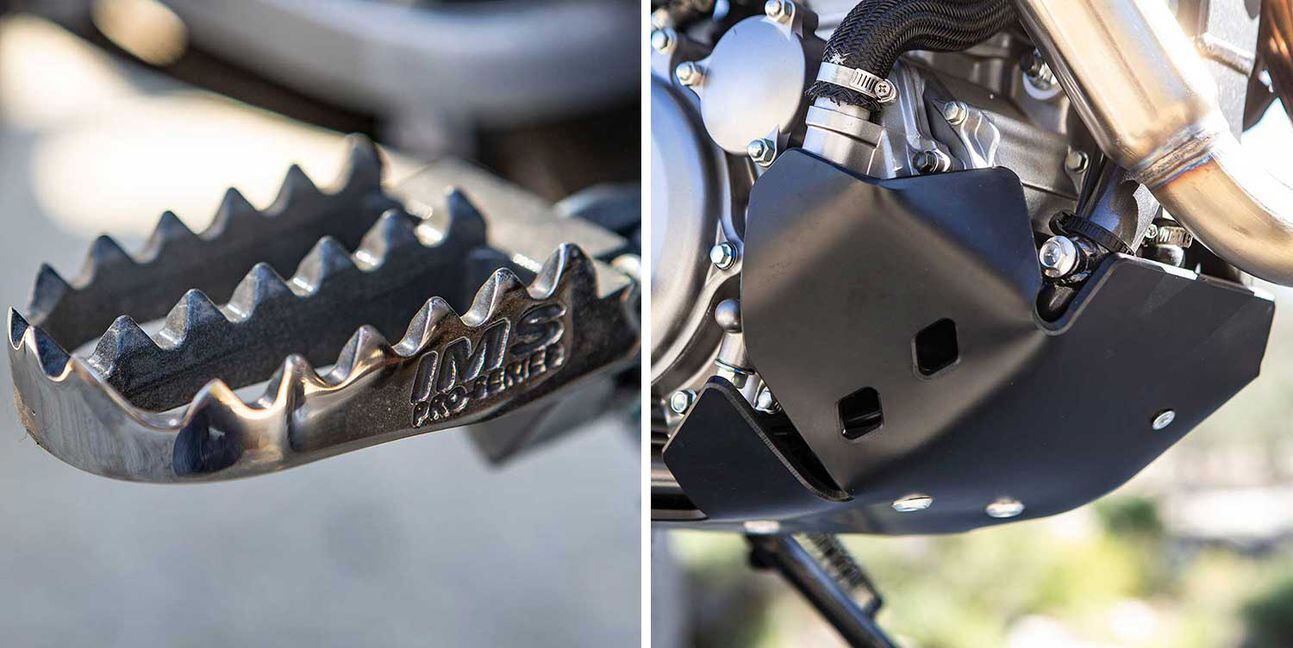 On the lower portion of the DR-Z, we added IMS Pro Series footpegs and a TM Designworks plastic full-coverage skid plate.Jeff Allen
Down low, we added a set of IMS Pro Series footpegs to the DR-Z for better grip as well as a lot larger platform to stand on. It was no surprise the IMS units worked great. Not only are they large and grippy, but they also stick farther out than the stock pegs, which allowed me to gain a little bit of extra leverage when weighting the pegs while riding off road. Underneath the bike, we added a plastic full-coverage skid plate courtesy of TM Designworks. I choose to use a plastic skid plate for its light weight and being that it would be less noisy than an aluminum one. It did a great job, for it took a few hard hits that left nothing more than a scratch. Finally, we added a Supersprox Stealth rear sprocket and Supersprox O-ring chain to lose weight and add strength.

The final touches of the build were done with the help of Jay Clark. He hooked us up with a Supersprox Stealth rear sprocket, Supersprox O-ring chain, and Dunlop D606 tires.Jeff Allen
After logging just over 1,000 miles on the 2019 Suzuki DR-Z400S project bike and countless more on a stock DR-Z400S, I can confidently say the products we added to the project bike had a huge impact on its overall performance as well as elevated the overall riding experience. We took this already-good bike and addressed a few areas that needed attention. With the help of Keihin and FMF we were able to achieve what felt like a massive power gain. In addition, we changed some of the ergonomics of the bike by adding better controls and accessories to create a true dirt bike feel. And finally, we bolted on a few necessary items to make it more trail- and adventure-worthy, such as the skid plate from TM Designworks and the oversize gas tank from Acerbis. Overall, the DR-Z400S project bike proved its worth after hundreds of miles a day in the dirt as well as on the road chasing down the latest and greatest dual sport and adventure bikes.
Parts List
Keihin
sudco.com
FCR-MX 39mm carburetor
FMF Racing
fmfracing.com
PowerBomb header pipe
Q4 muffler
Acerbis
acerbisusa.com
3.9-gal. fuel tank
X-Factor hand guards
Supersprox
supersproxusa.com
Stealth rear sprocket (44-tooth)
Off-Road O-ring chain
Dunlop Tires
dunlopmotorcycletires.com
D606 front, 90/90-21
D606 rear, 120/90-18
TM Designworks
tmdesignworks.com
Full-coverage skid plate
IMS Products
imsproducts.com
Pro Series footpegs
Renthal
renthal.com
7/8-inch Reed/Windham handlebar
ODI Grips
odigrips.com
Half-waffle motocross grips
Doubletake Mirror
doubletakemirror.com
Adventure mirrors