Chief Proprietor and Board Lord
Staff member
For $2,500??! I'll take two, please.
Dainese Misano 2 D-Air Perf. 1PC Suit Review - Cycle World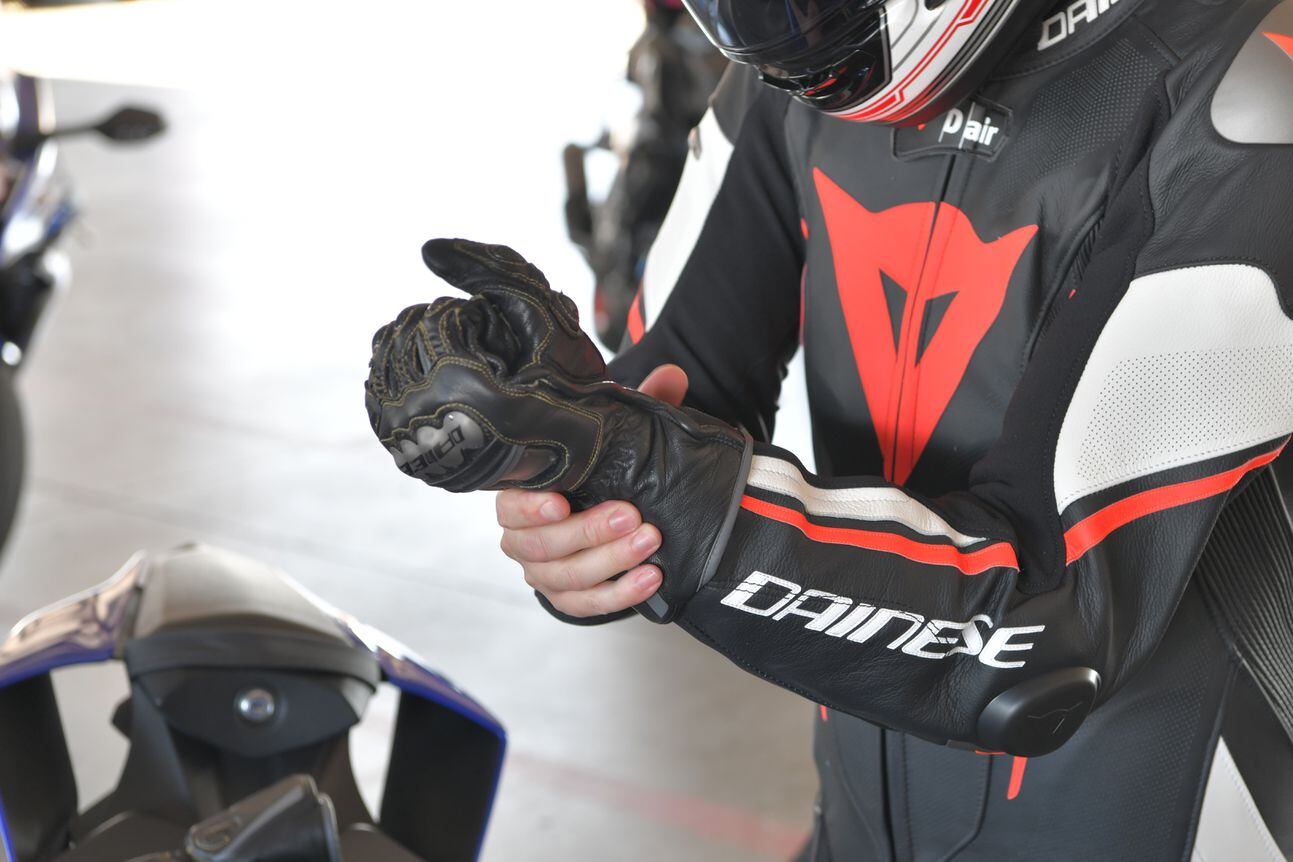 Dainese Misano 2 D-Air Perf. 1PC Race Suit.Ray Bradlau
The Dainese Misano 2 D-air race suit is $2,500 worth of the supplest leather, third-gen D-air technology, and on-track style that would fit right in at the Moto Ranch with the The Doctor and his coterie of VR46 Academy upstarts.
Dainese offers two race suits available with its D-air airbag technology: the as-seen-on-
MotoGP
-racers Mugello R D-air ($4,500), which features kangaroo hide construction and titanium armor inserts, and the Misano 2 D-air, constructed of more affordable D-skin cowhide and trimmed with aluminum armor inserts.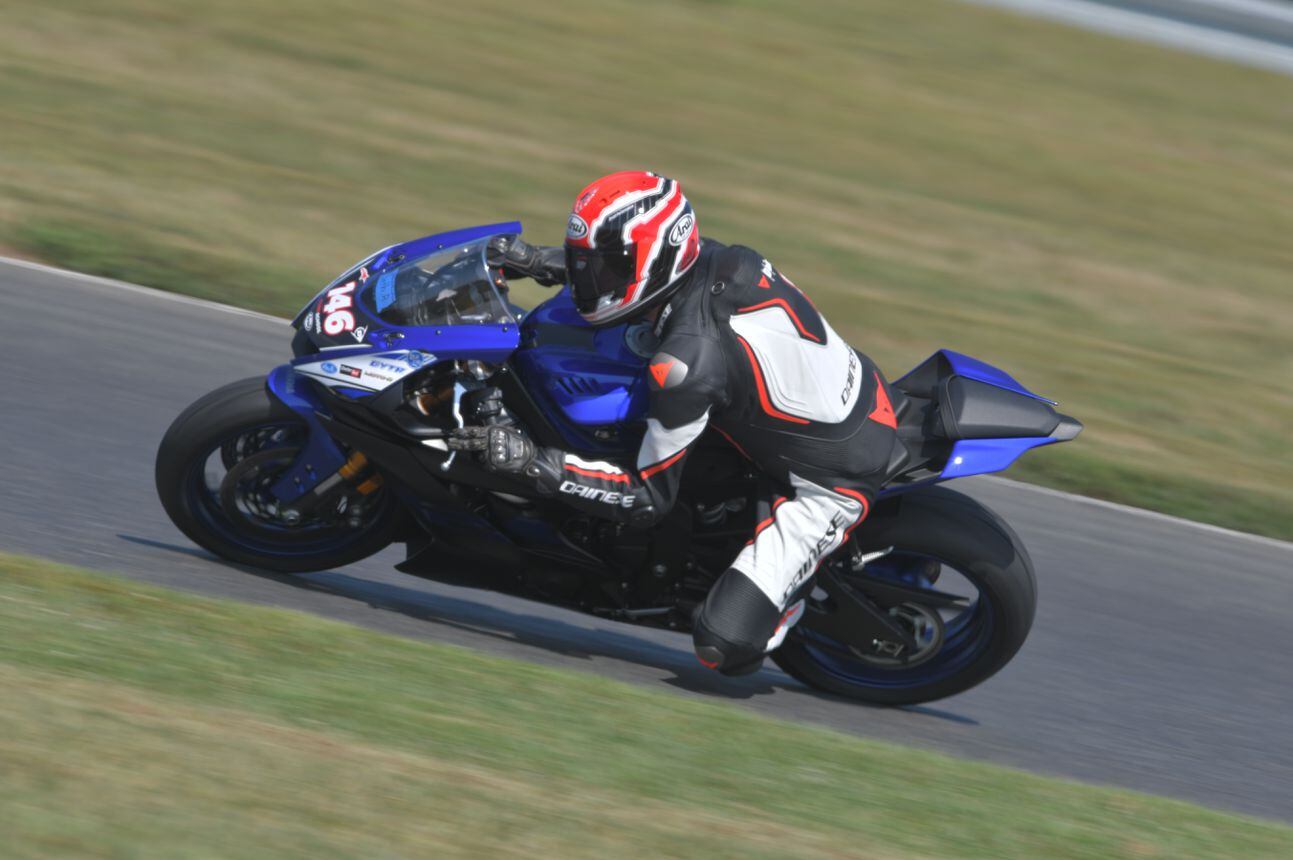 A well-fitting suit is a safe suit.Ray Bradlau
The Misano's price tag marks it as a high-end suit—it's the second most expensive in Dainese's lineup, after all—but it seems a logical price point considering the D-air tech and its use of 2mm D-skin leather, Dainese's most premium cowhide. Dainese's spectrum of non-airbag suits range in price from the $1,000 Assen, constructed of its most budget "tutu" 1.2mm cowhide leather, to $2,000 for the Kyalami, made of the same kangaroo hide as the Mugello halo suit.
D-skin is full-grain leather specially selected for the quality of its hide and then treated with specific waxes and silicones. Dainese claims it's 40 percent more abrasion-resistant than standard cowhide.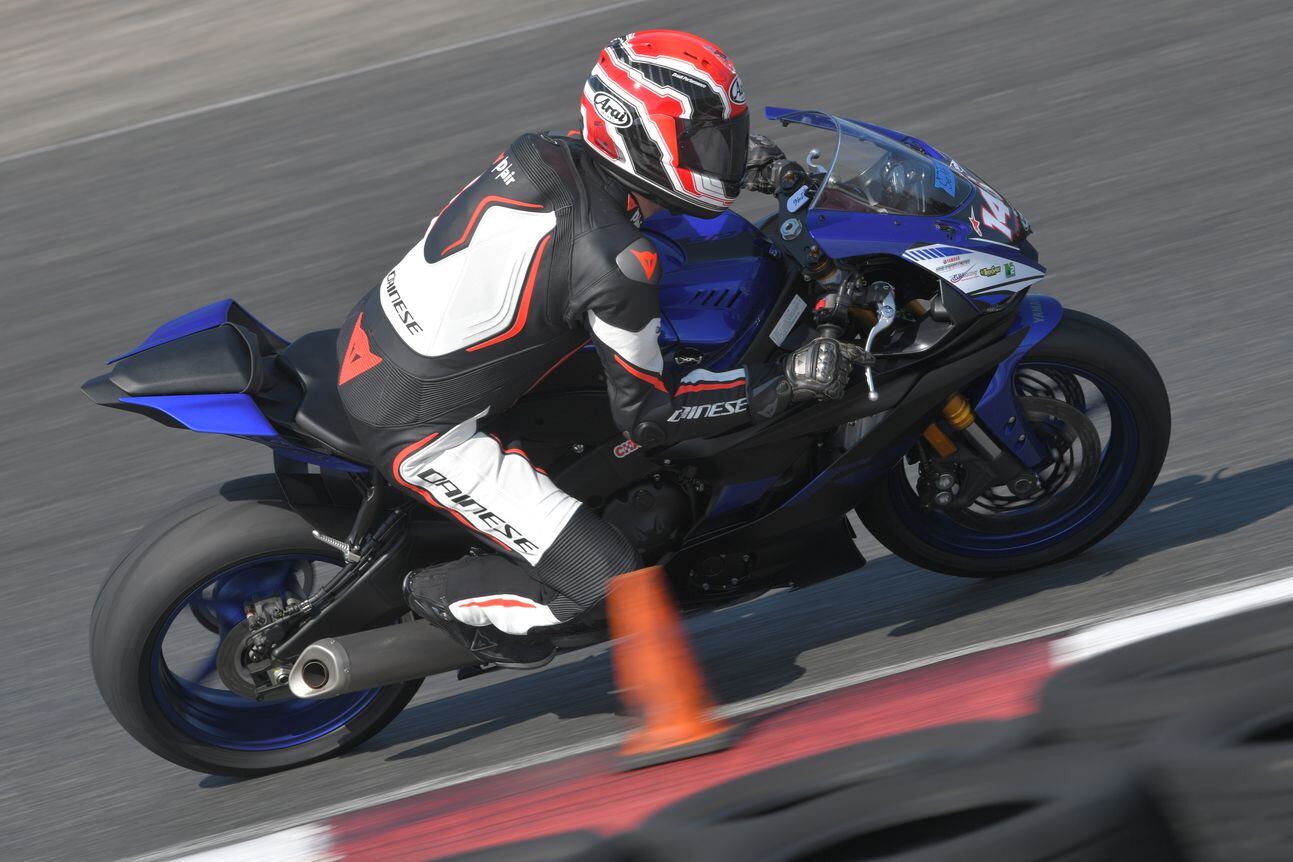 Large stretch panels help maintain mobility.Ray Bradlau
Regardless, it has that distinctive Dainese leather aroma that's uppermost in the canon of great motorcycle smells—right up there with burning two-stroke oil and race fuel. If Dainese made eau D-cologne, I'm sure it would find a market for it, is all I'm saying.
The iconic Dainese demon logo.Seth Richards
The D-air airbag is non-removable and is so seamlessly incorporated into the suit that it doesn't add any visible bulk. Just to get eyes on it requires unzipping the suit's lining and poking around a bit. Pretty impressive. Nor could I feel any difference wearing the Misano compared to a suit without an airbag. It's practically invisible in every regard.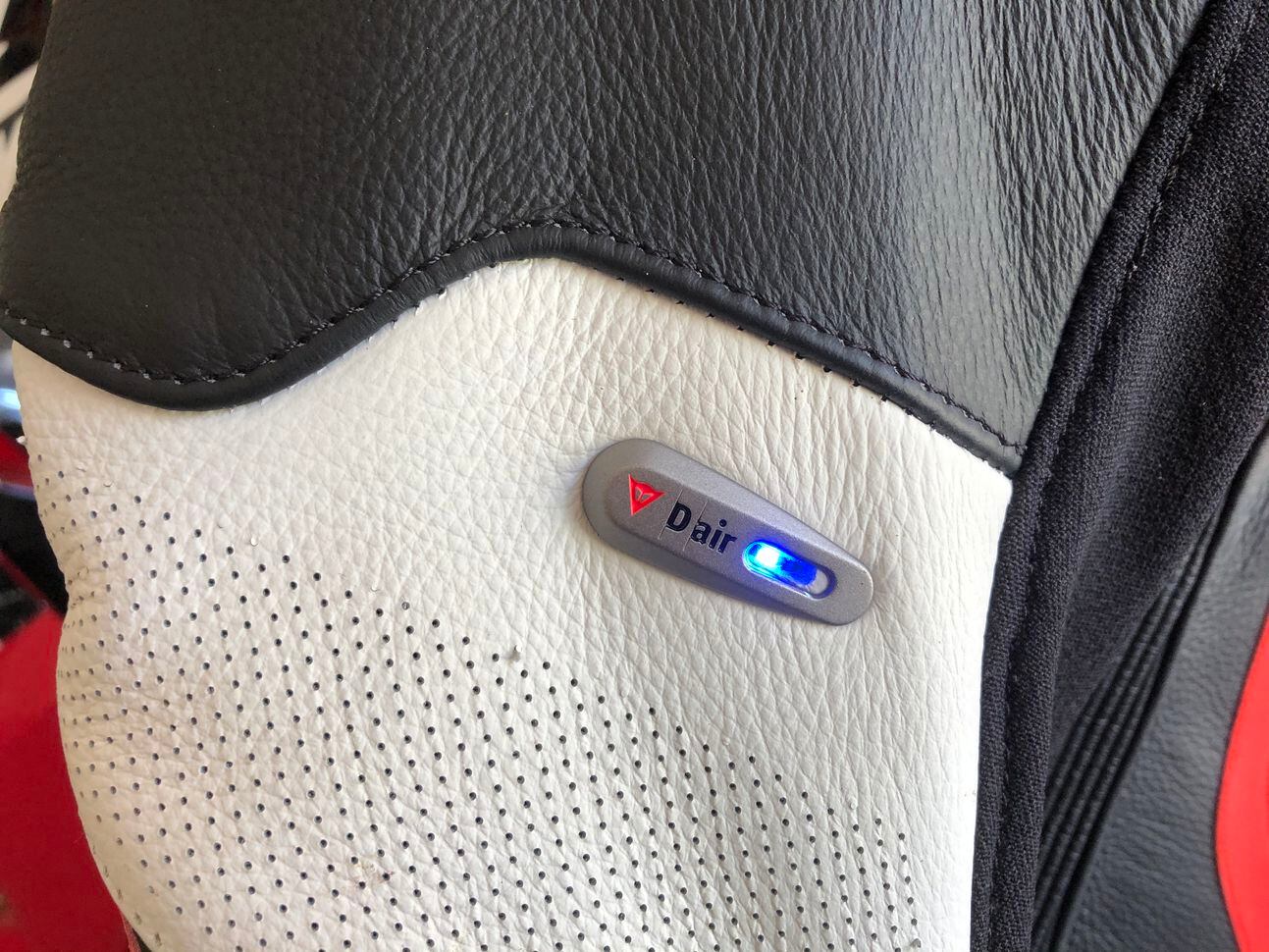 LED indicator light on the right sleeve.Seth Richards
Arming the airbag is hassle free. The system activates by buttoning the zipper closure tab just like you'd do on any ordinary suit. There's no calibration necessary. Just zip, snap, and you're ready to rip. For more detailed information about Dainese's airbag technology,
click here
.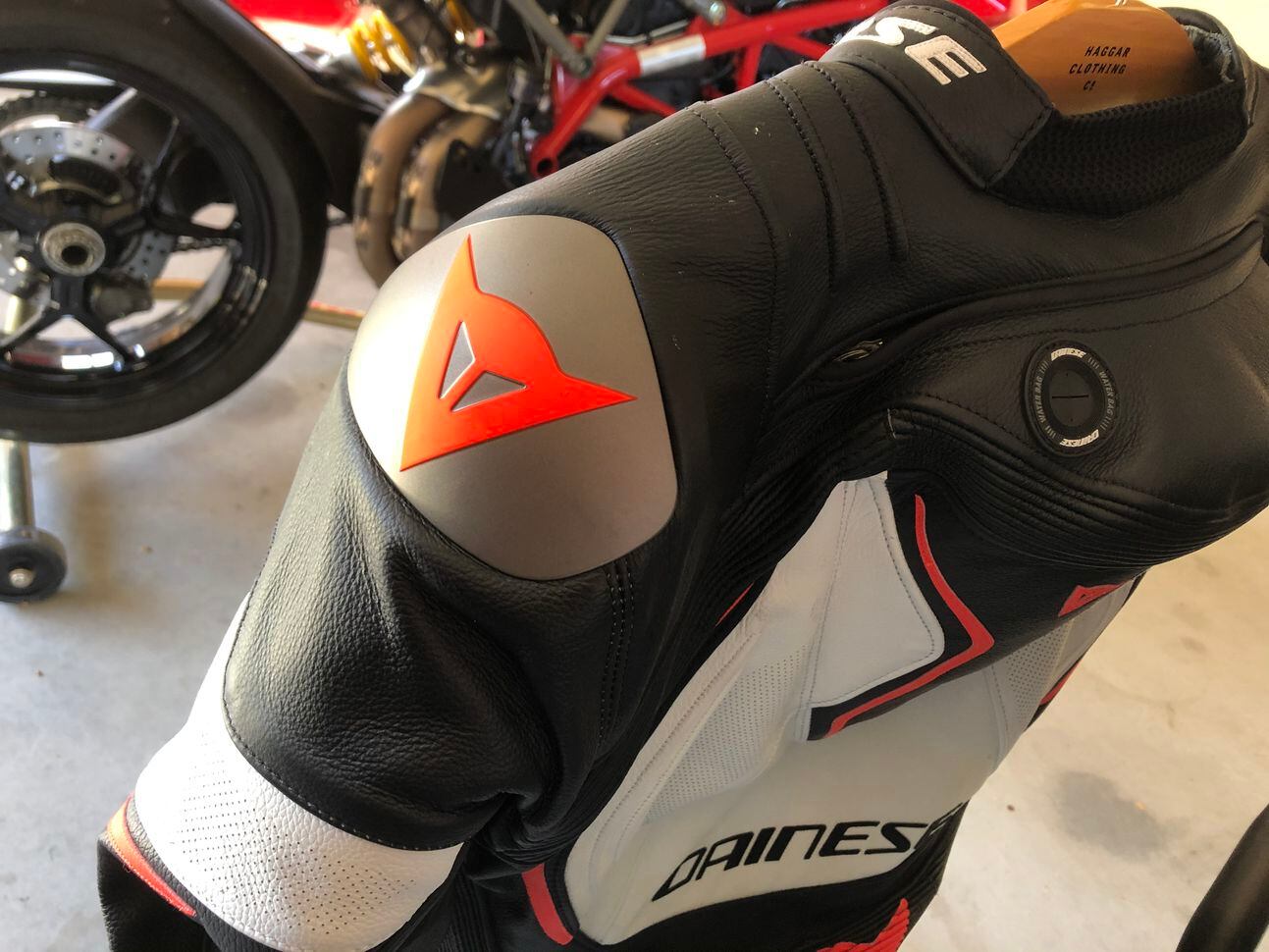 Aluminum shoulder armor and hydration bladder port.Seth Richards
The Misano suit performs exceptionally well on track, and it all starts with a great fit. There are ample abrasion-resistant micro-elastic stretch panels that span from armpit to wrist and from crotch to ankle, ensuring free range of motion on the bike. Elasticated leather panels behind the shoulders and lower back and above the knee maintain flex in high-impact zones where there's no substitute for leather.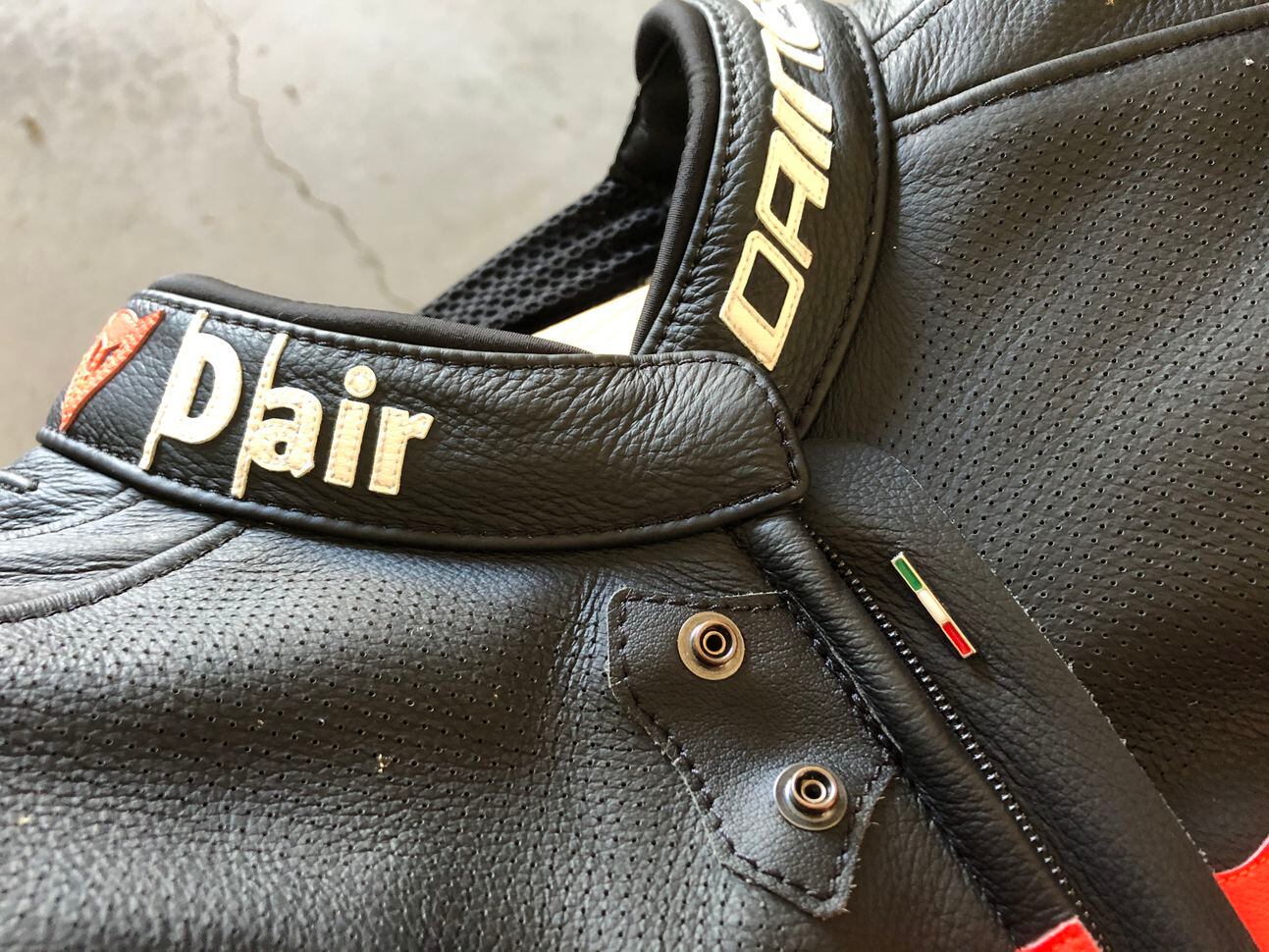 Closing the snaps arms the system.Seth Richards
The Misano suit is compatible with Dainese's in-boot system. I wore Dainese's top-spec Axial D1 boots (stay tuned for a separate review) that Velcro to the inside of the suit's legs for a secure fit. I think the in-boot design really adds to overall comfort on the bike. Think of it as the motorcycle world's version of children's footie pajamas.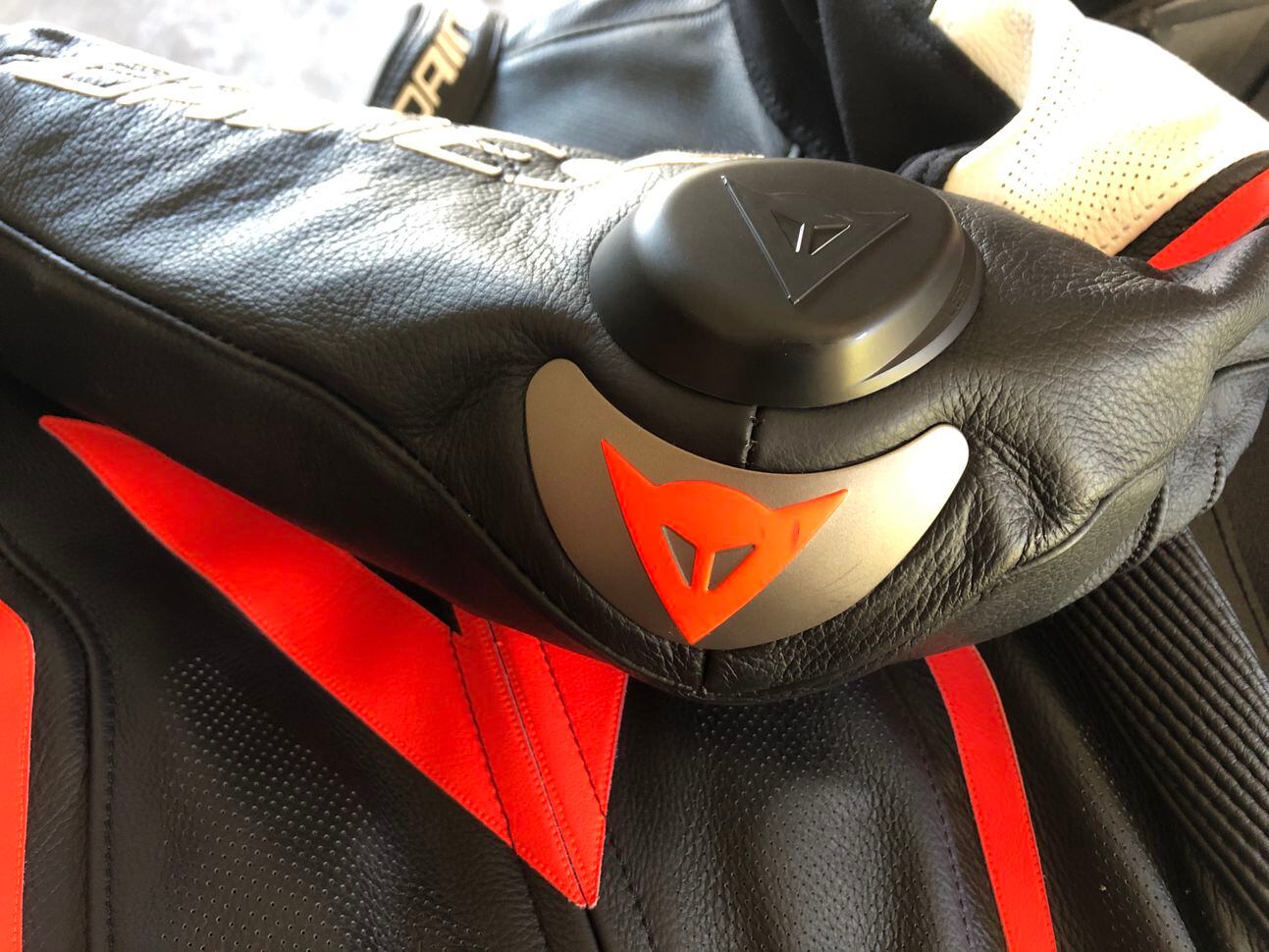 Elbow sliders.Seth Richards
In terms of armor, there's exterior seamless-style plates on the shoulders, knees, and elbows that are larger and more aerodynamic than the previous style. The new seamless style is favored by the likes of Valentino Rossi, Jack Miller, and Joan Mir in MotoGP, though you'll still see the old version on suits worn by riders like Pol Espargaró and Franco Morbidelli (according to Dainese, it's a matter of personal preference on the racer's part, in case you're wondering).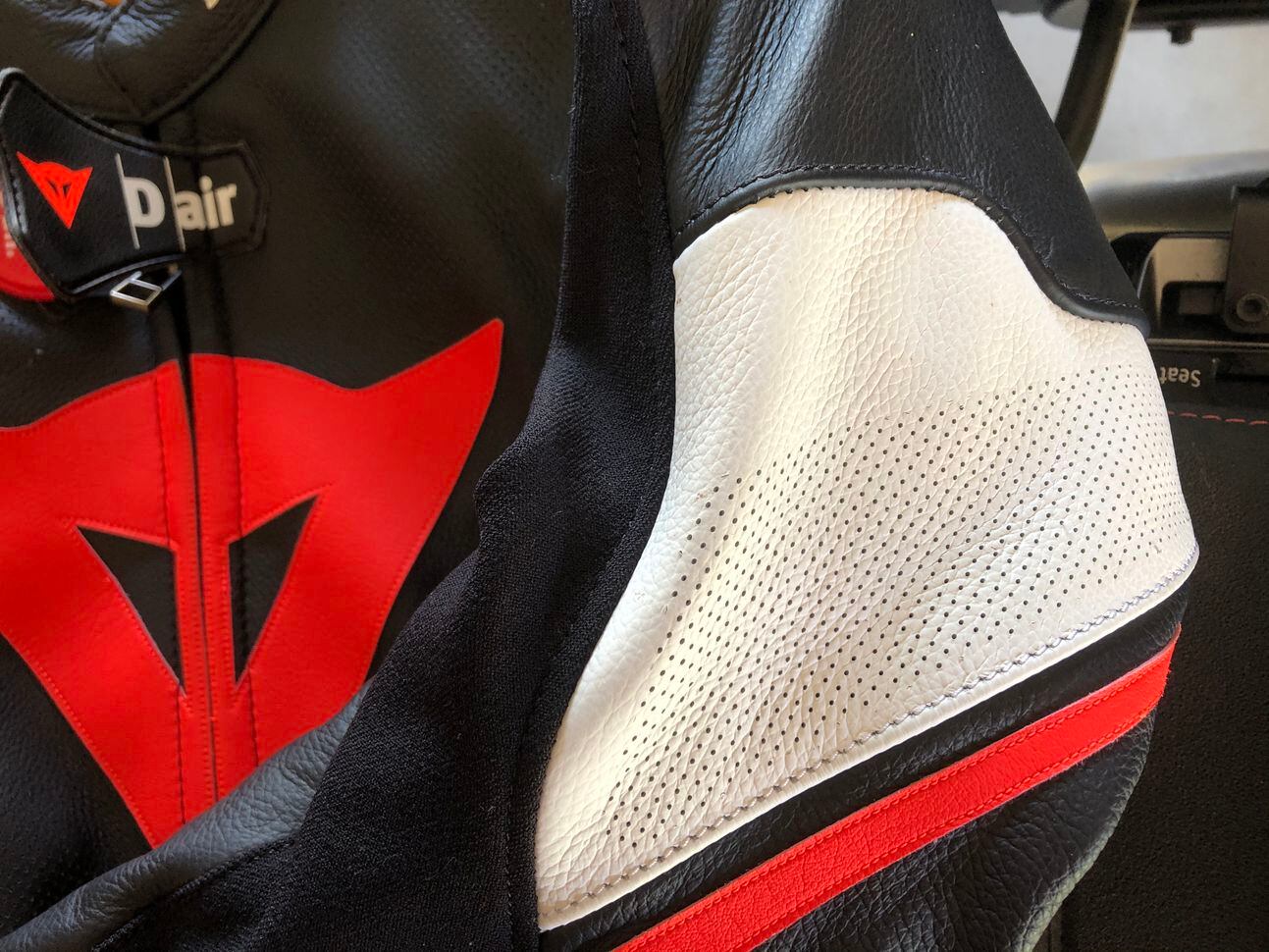 More perforations on the sleeves.Seth Richards
Inside the suit, the elbows and knees feature generous composite armor, comprising a hard outer shell and impact-absorbing poly. The removable liner has thin sewn-in padding around the chest, hips, and back. And there's an integrated coccyx protector sewn into the leather. Chest and back protectors are sold separately.
Other features include a removable hydration bladder and grippy rubber inserts on the knees. Ample perforation keeps the rider cool at speed.
The aerodynamic hump is not so huge that it gives the hunchback effect.Seth Richards
Dainese marries the Misano's cutting-edge technology to top-notch build quality and attention to detail. When you spend $2,500 on a race suit, you want to feel good about it. The little tricolore emblem on the placket, the precision of the stitching on the delicate liner, and the perfection of every seam go a long way to adding some pride of ownership to the peace of mind you get from wearing an airbag suit on the track. All of which is to say, it'd be a real shame to crash in it.
Dainese and Ducati: a natural fit.Seth Richards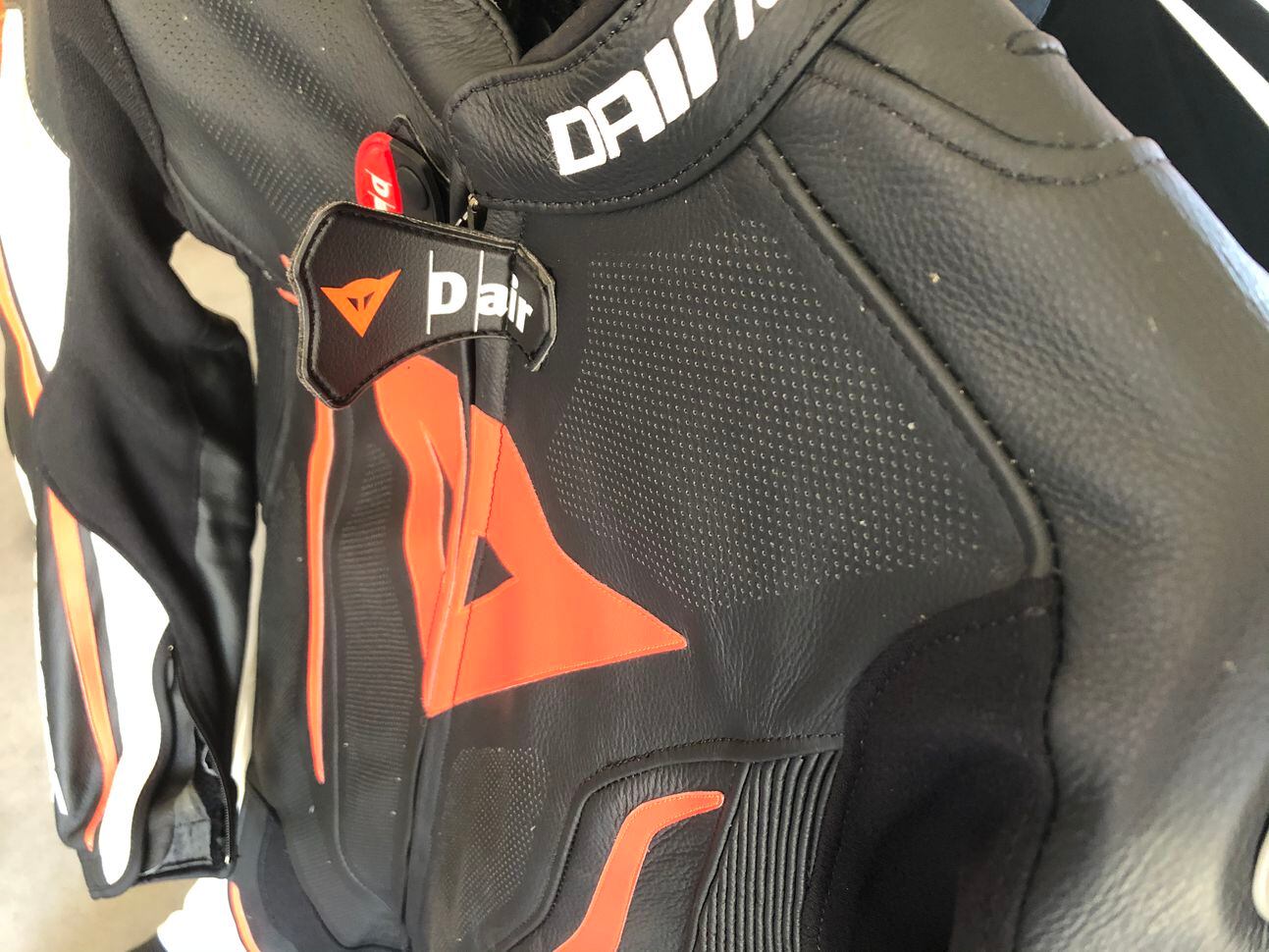 Ample perforation to keep things cool.Seth Richards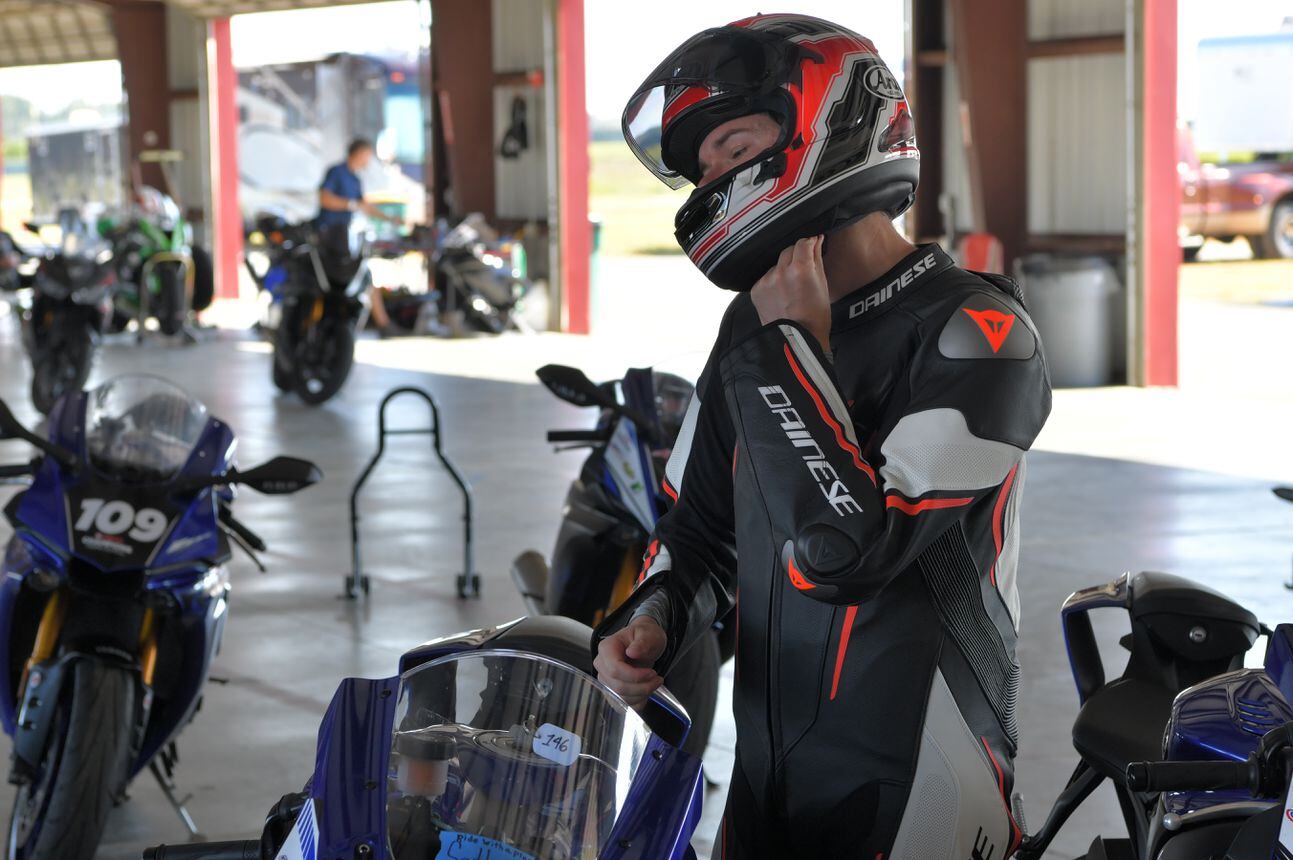 Getting ready to go out on track.Ray Bradlau
Dainese Misano 2 D-Air Perf. 1PC Suit
Price:
$2,500
Grade:
A
Verdict:
High prices breed high expectations. The Misano 2 meets those expectations with high-quality materials, excellent craftsmanship, and the latest D-air technology. Any shortcomings? Maybe that it's too nice to crash in.